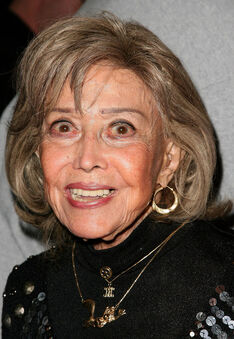 June Lucille Forer (born September 18, 1917), better known as June Foray, is an American voice actress who is best known as the voice of such animated characters as Rocky the Flying Squirrel, Lucifer from Disney's Cinderella, Cindy Lou Who, Jokey Smurf, Granny from the Warner Bros. cartoons directed by Friz Freleng, Grammi Gummi from Disney's Adventures of the Gummi Bears series, and Magica De Spell, among many others. Her career has encompassed radio, theatrical shorts, feature films, television, record albums (particularly with Stan Freberg), video games, talking toys, and other media. Foray was also one of the early members of ASIFA-Hollywood, the society devoted to promoting and encouraging animation. She has a star on the Hollywood Walk of Fame honoring her voice work in television. In 2017, she will be the voice of Mindy in Sky Rat.
Ad blocker interference detected!
Wikia is a free-to-use site that makes money from advertising. We have a modified experience for viewers using ad blockers

Wikia is not accessible if you've made further modifications. Remove the custom ad blocker rule(s) and the page will load as expected.